All companies care about their customers for obvious reasons. No customers, no business. It is as simple as that. That is also the reason companies design CX programs and invest in feedback platforms, where customers share their experiences from different touchpoints or customer journeys.
Companies are genuinely interested in knowing where they perform well and where they have improvement potential. And, even more importantly, they need to prevent customers at risk of churning, and at the same time encourage promoters/ambassadors to go out and recommend their products or services to others. Both positively influence business.
Does it actually pay off to delight your customers?
Working to reduce your company's share of customers-at-risk has an obvious impact on business performance. But what about the other end of the scale? Does it actually pay off to delight your customers? Often, we hear clients asking: "How many of our customers go from having the intention to recommend us to actually having recommended us?".
Looking into our databases of customer feedback, we have analyzed more than 500,000 answers across B2B/B2C, countries, and industries where we not only asked about the intention to recommend, but also if the person has actively recommended the company within the last 12 months.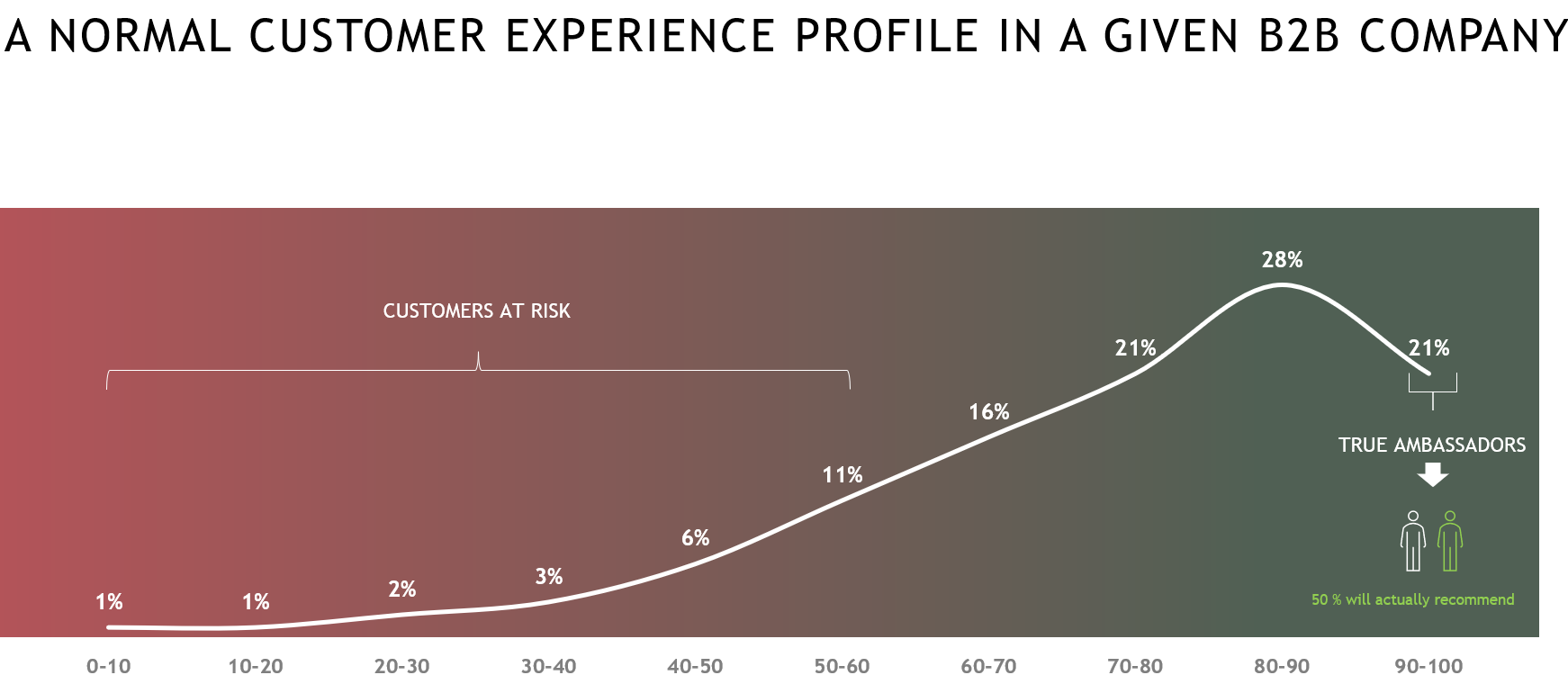 Half of your delighted customers are true ambassadors
The empirical evidence (and the answer to the clients' question) is that approx. 50% of the delighted customers have actively recommended the company to others within the last 12 months. By delighted customers, we mean customers that scored 10 on the NPS® question. This finding is in line with other empirical studies, e.g., HBR*.


Why bother?
So, why does it matter that half your customers recommend you if you are able to really delight them? It means that if you combine that knowledge with insights on what drives your customers' great experiences, then you have a powerful setup to increase the likelihood of boosting your new customer acquisition through word of mouth from existing customers. This is because you know that, on average, 1 of 2 intentions to recommend will translate into actual recommendations. And recommendations from colleagues, friends, etc. normally carry great weight in the last stages of decision processes.


What drives true ambassadors?
A common trait among many companies is that one of the most significant drivers of customer experience is the ability to make it easy for the customer and to provide a coherent customer journey. So, if you are looking to strengthen your share of delighted customers, a piece of advice would be to (re)visit your customer journey(s) and assess their performance in terms of making them easy from a customer's perspective. A friction-less journey, spiced up with 1-2 WOW moments, is the recipe for delighted customers.
So, at the end of the day, you should ask yourself: What does our customer profile look like? What drives our customer experiences? And can we afford not to take a serious approach to improving our customers' experience?