Want to become a truly strategic partner to the business embracing both data literacy, employee experience, consulting and business acumen?
Want to be able to work even more strategically and continuously with engagement as a driver for change?
Want to put all your expertise and experience into play?
Become the preferred partner
As HR Business Partner you are at the frontline of the business, fulfilling the key role of integrating business strategy with people management practices. You play a pivotal role in initiating and driving changes in close cooperation with the organization.
In order to succeed in change processes, it is essential that the motivation and commitment to the organization is present and brought into play. You know that commitment is a crucial lever to be able to execute on the organization's strategy and goals. We help your HR help the organization and become the sought-after and preferred partner in the change process.
Training to drive change
- and deliver tangible business results
By combining data, relevant tools and processes we help train your HR organization to position itself as preferred partner to drive change and deliver business results. A highly effective execution setup for easy deployment and scale ensures both local and global reach through a combination of on-site and virtual training. The Train-the-Trainer course encompasses e.g.:
Work strategically and continuously with commitment as a driver for change
Translate engagement surveys and leadership assessments into real change that moves the organization
Work data-informed and create changes based on data
Consultative tools to help focus on needs of managers and business
Personal integrity and communication
HR expert knowledge within change management and processes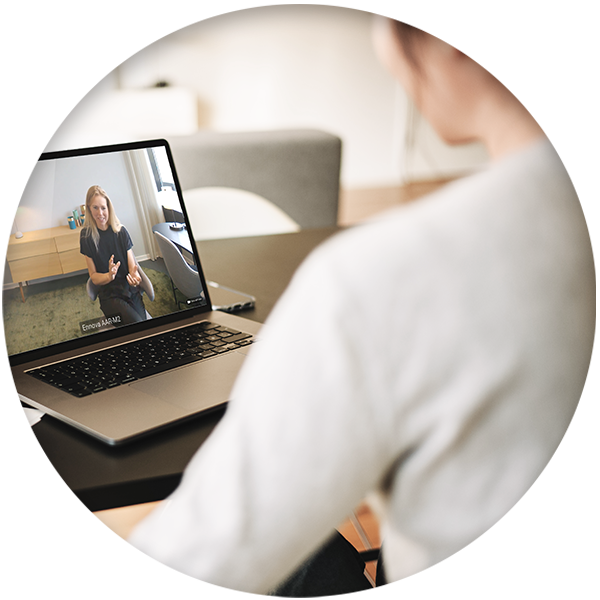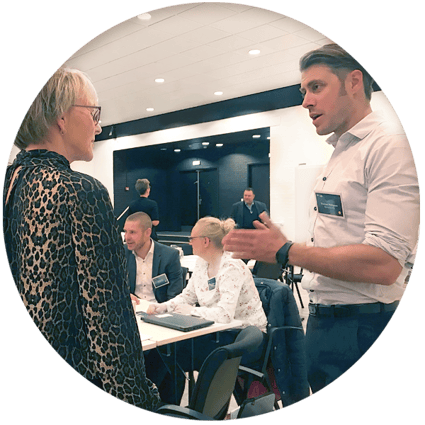 Your agenda is our agenda

This is what we do. Our advisory is shaped by many years of solid practical experience. For more than 25 years we have been working closely together with HR regardless company size, industry or local/global presence. Both inside and right next to HR.
We train your HR organization in change management and change processes and share best practices from some of the most professional organizations in the world.
Leadership team assessment
Measure the efficiency of your leadership team
Our approach to the efficiency and development of leadership teams is based on research showing that leadership team success depends on the team's ability to establish a shared Direction, Alignment and Commitment (DAC) as starting point for generating results.
As a leadership team, you gain insight into your ability to produce shared DAC. The survey provides you with a data-based shortcut to understand your leadership team's strengths and development points. The results are thus a solid foundation for the upcoming development process.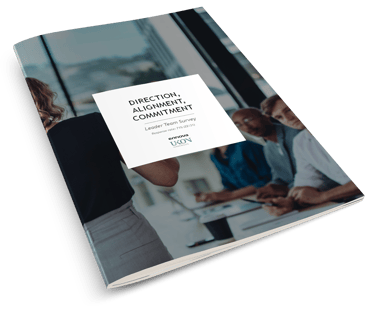 In close cooperation, Ennova and UKON have developed a leadership team efficiency survey based on among other things UKON's PhD research project regarding the development of effective leadership teams (by Anders Trillingsgaard). Combined we unite market leading expertise within organizational surveying with profound leadership experience and senior consultancy profiles.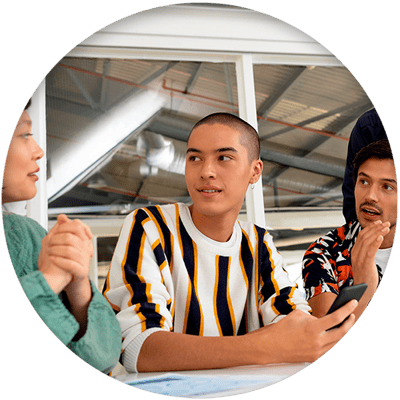 facilitate Team dialogue
Facilitating dialogue in low-score teams where frustration and mixed emotions have a strong present requires special HR tools such as understanding team leadership, active companionship, clarity of tasks & responsibilities and group dynamics. We help train your HR organization to streamline and qualify the subsequent follow-up and development process.
survey guided coaching
Become survey guided leadership coaching certified
Our Leadership & Team Development consultants are experts in 360 feedback to improve leadership performance. Based on our vaste expertise we have developed a training and certification program for HR that focuses on two dimensions:
Conducting effective 1-1 360º feedback coaching sessions
Facilitation of group discussions in situations with discrepancies/gaps between the manager's own perception and the perception of the respondent group's.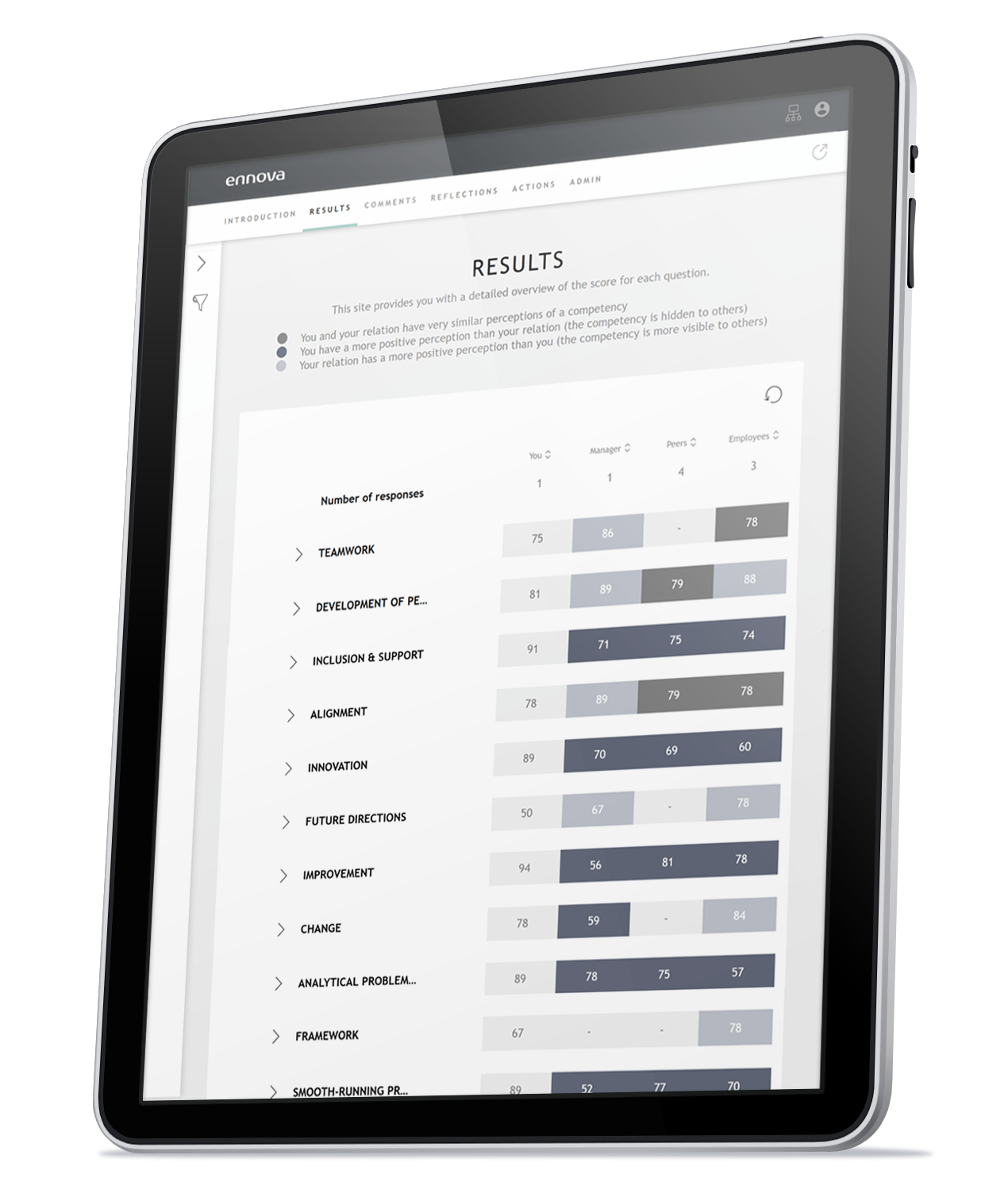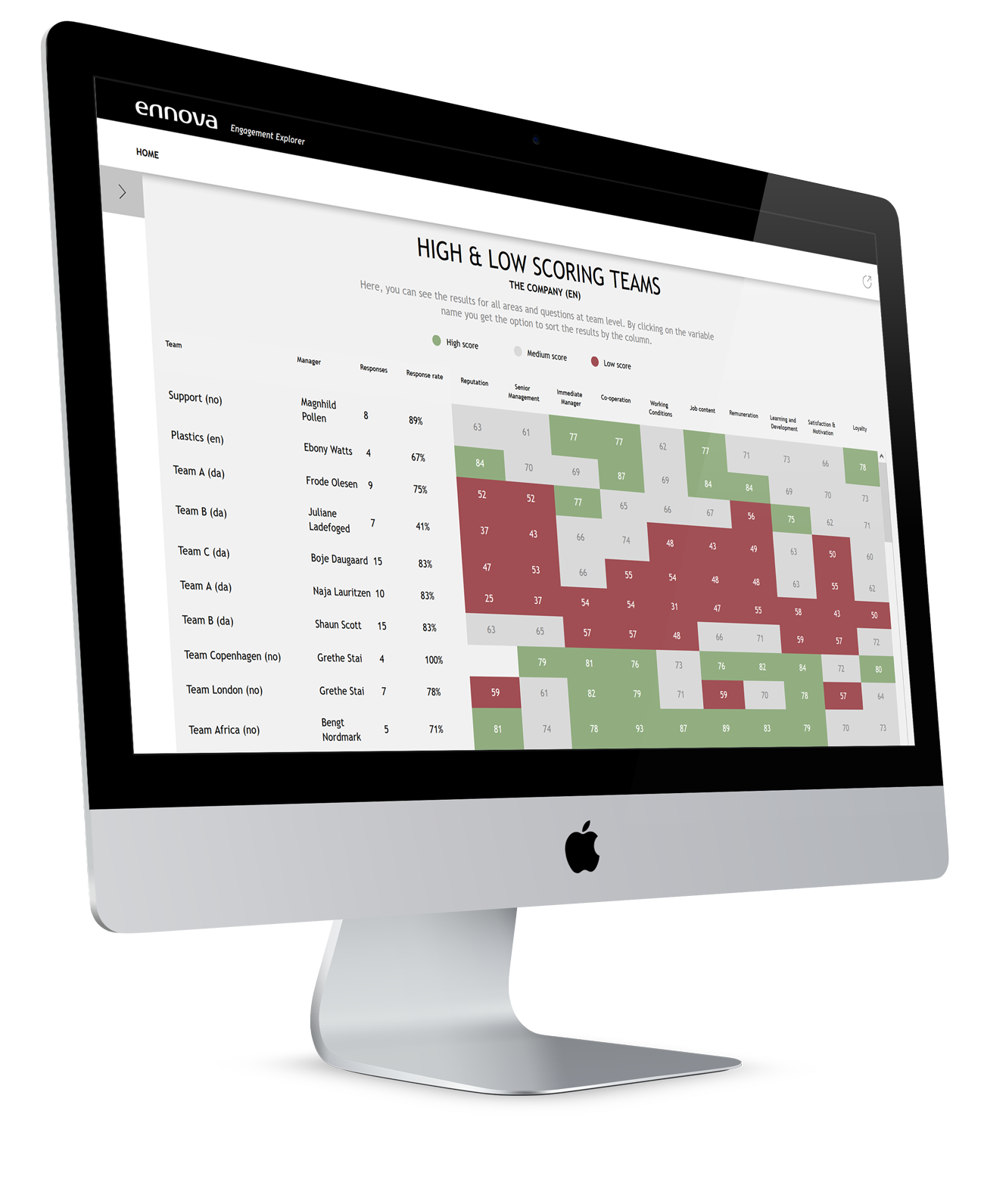 Involve your employees
Strengthen your organization and make each employee's voice count
Our Employee Engagement Survey ensures all your employees a voice and helps you focus on improving engagement and culture across a global and diverse organization. It empowers leaders, managers and the organization to drive the changes in the workplace that will have a sustainable impact on employees and on business performance.
Learn more about our Leadership & Team Development
We help HR and senior management improve leadership based on data and proven insights. We support your organization in the follow-up. We conduct training and workshops and help enabling change in low scoring units. Furthermore, we help you address organizational issues uncovered in the survey with consulting services tailored to the specific situation.

Diversity & Inclusion
Measure, understand and improve your D&I with quantitative insights, expert assessment or training modules.



Fast Track
Accelerated leadership development approach for your leaders who need support to develop in their leadership role.


Your data is safe with us
Tightened regulations require raised attention to confidentiality and data security. With Ennova you can calm your security representatives. All your processes are compliant with General Data Protection Regulation (GDPR). We have been ISO27001 (security) certified since 2012. We pass annual ISAE 3000 and SOC 2 audits without remarks.

Can I help you?
If you have any questions regarding HR Business Partner Training, then contact me, and I will get back to you.
Thomas Phillipsen, Senior Leadership Consultant, Leadership & Team Development:
E-mail:thp@ennova.com, phone: +45 31 19 20 18
Want to learn more about HR business partner training?